In an effort to help combat the spread of COVID-19 and maintain the health and well-being of its associates, RPM was quick to implement several precautionary policies for its corporate office, manufacturing plants and distribution sites worldwide—one of the first being to conduct temperature checks for anyone who arrives at an RPM facility.

After discovering it was nearly impossible to find licensed nurses or other healthcare professionals to oversee this policy,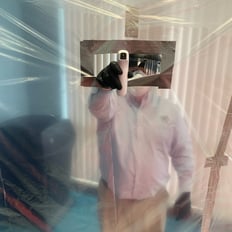 RPM's VP of Environmental, Health and Safety Ken Armstrong purchased thermometers for each of the company's facilities and designated employees around the world to perform the temperature checks. Temperatures are not recorded and are taken in a manner that ensures confidentiality.

At RPM's corporate office, receptionist Vikki Sabo was tasked with conducting temperature checks for her fellow colleagues and any essential visitors. Upon the arrival of a DHL delivery worker, Vikki politely approached him and asked if she could check his temperature—which was normal.

"I was a little worried at first because I didn't want to invade his privacy," Vikki said. "But he was very thankful, and he told me that no one else had done that at other locations. He wanted to encourage other companies to adopt the same policy."

Before a state-mandated closure of non-essential business operations, the corporate office had set up Purell stations, with Lysol and Clorox wipes, to encourage "clean as you go" good hygiene practices and also had a cleaning crew thoroughly disinfect common areas daily. RPM companies around the globe are taking similar precautions.

These are just some of the lengths that RPM is taking to protect the health and safety of its associates worldwide.
PHOTO CAPTION: Pictured above is temperature scanning taking place at a controlled access point into a DAP facility in Baltimore. RPM's Operations Group continues to develop improved health and safety practices like this and is sharing them across the company.